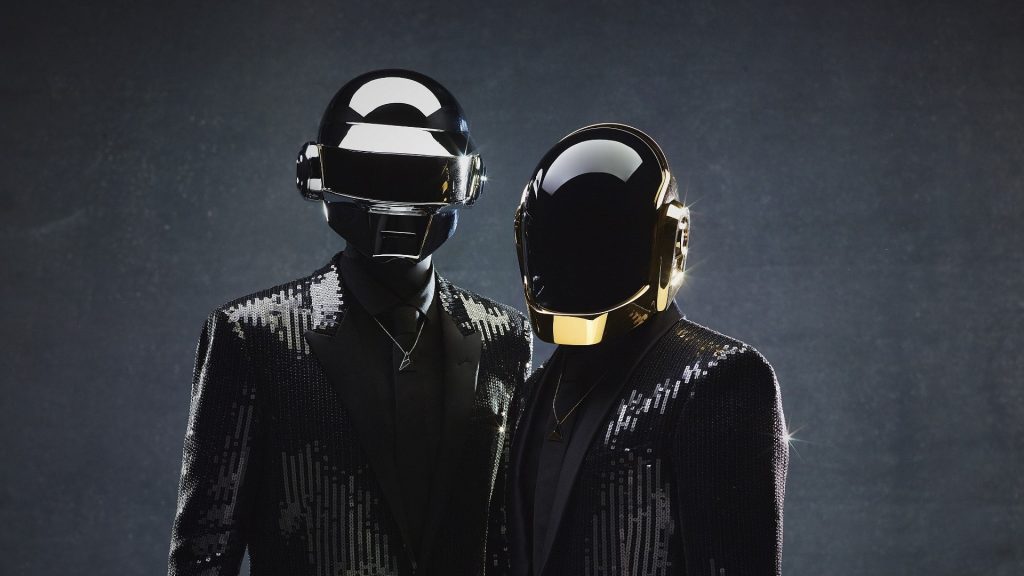 This article was originally published by http://remixmag.com/ . Ronin Asylum is archiving it in order to preserve what we consider an important work in the genre of techno pop.
May 1, 2001 12:00 PM
Hermetically sealed within silver and gold robot masks and gloves, Daft Punk could be accused of making themselves into poster boys for faceless, machine-made dance music. And that would certainly be the case if the Paris-based duo of Thomas Bangalter and Guy-Manuel de Homem-Christo simply delivered a lifeless heap of stiff robo beats, predictable riffs, and monotonous bass lines on their long-awaited sophomore effort. But with its tongue-in-cheek '80s rock overtones — which include convincing synth emulations of Van Halen-style guitar pyrotechnics, progressive-rock baroque-fugue figures so pompous they'd make Rick Wakeman blush, and cheeky body-popping electro beats that haven't been heard since the last Cinemax screening of Breakin' 2: Electric Boogaloo — Daft Punk's latest album, Discovery, is probably the freshest and most invigorating effort by a dance music act since — well, Daft Punk's debut LP, Homework.
"PEOPLE ARE OFTEN AFRAID OF THINGS THAT SOUND NEW."
— THOMAS BANGALTER
It's somewhat ironic that the duo have reinvented themselves as humanoid machines. "We did not decide to become robots," silver-domed automaton Bangalter explains dryly. "There was an accident in our studio. We were working on our sampler, and at exactly 9:09 a.m. on September 9, 1999, it exploded. When we regained consciousness, we discovered that we had become robots." In stark contrast to their mechanical-man couture, Daft Punk have issued an album that promises to breathe new life and vitality into house music. Ever since Daft Punk burst onto the scene, many house music artists have followed every move they make and have toiled to duplicate their signature low-tech sound. With Discovery, Daft Punk have foiled the competition by completely rearranging the formula.
Although Bangalter and de Homem-Christo claim they were physically altered by some obscure millennial bug, their music has benefited from the injection of a human element that's even rarer in these days of sequencers, samplers, and simulated synths. Initially, the duo called upon house music heroes Todd Edwards and Romanthony — whom Daft Punk had previously praised in their name-checking tribute "Teachers" — to lend soulful vocals to the songs "One More Time," "Face to Face," and "Too Long." Next, Bangalter and de Homem-Christo stocked their studio with vintage Fender Rhodes and Wurlitzer electric pianos, funky '70s effects pedals, and long-forgotten '80s drum machines. Much to their surprise, they also discovered that the accident had given them an insatiable desire to actually play their instruments instead of merely programming them. But perhaps the most shocking development was the duo's venture into territory where no dance music has gone before: the solo.
Daft Punk may have reinvented themselves with Discovery, but their music still delivers just enough familiar elements to keep their more conservative fans happy. After all, most of the sounds that characterized their '90s singles — filtered disco samples, massive 909 bass drums, vocoded vocals, and swirling phase-shifter textures — have become so characteristic of modern house music that Daft Punk might have pulled the plug on their musical career if they abandoned them altogether. In fact, one can more readily excuse the rather pungent fromage of the Barry Manilow samples on "Superheroes" when they're immediately followed by the nasty disco-diva loops and pounding four-on-the-floor drive of "High Life."
Anyone who is surprised by Daft Punk's newfound fascination with musicianship and songs should look back about ten years to when Bangalter and de Homem-Christo played bass and guitar, respectively, in a trio called Darlin' with their friend and current Phoenix guitarist Laurent Brancowitz. The group enjoyed marginal success when Stereolab released one of their songs on a multiple-artist EP and invited Darlin' to play some opening gigs in the United Kingdom. A reporter for Melody Makerwitnessed one of these gigs and described Darlin' as "daft punk" in a review of the show. Going back even further, Bangalter was barely out of diapers when his father, Daniel Vangarde, was producing and writing songs for disco acts such as the Gibson Brothers, Ottawan, and Sheila and Black Devotion. That was back in the glory days of disco, when drummers — rather than drum machines — pumped out the rhythms that inspired dancers to shake their booty.
Bangalter must have experienced some sort of fraternally inspired divination when he stepped into a dance club with de Homem-Christo in 1993. Shortly afterward, both decided to abandon their string instruments in favor of synths and samplers. A year later the renowned independent Scottish house label Soma discovered Daft Punk and issued the duo's first single. In early 1995 Soma released Daft Punk's second single, "Da Funk," a stomping house hit featuring the funkiest riff to hit dance floors since George Clinton manned the Mothership. The Chemical Brothers commissioned a remix, and Virgin beat a path to Daft Punk's Paris doorstep with a record deal. Suddenly these daft punks were the darlin' of the United Kingdom's burgeoning underground dance scene.
Virgin released Daft Punk's full-length debut, Homework, in 1996. Although Bangalter and de Homem-Christo were still in their early 20s (Bangalter was born on January 1, 1975, and de Homem-Christo was born on August 2, 1974), together they soon became one of the most powerful creative forces in dance music. Almost everybody wanted to sound like Daft Punk, and even though many pop music stars approached them with generous offers for remix makeovers, the duo declined. Instead, Daft Punk devoted their energy to producing a stunning live show and making innovative videos directed by Spike Jonze, Michel Gondry, Roman Coppola, and Seb Janiak (all of which were compiled on the D.A.F.T. DVD, released in 2000). Meanwhile, Bangalter released several solo efforts and tracks by Roy Davis Jr., Alan Braxe, and Romanthony on his Roulé label. De Homem-Christo also jumped into the record- mogul role by establishing the Crydamoure label and releasing singles by Le Knight Club (his collaboration with DJ Rico), Paul Johnson, Buffalo Bunch, and his brother, Play Paul. Selections from Crydamoure's 12 singles are available on the recently released Waves compilation.
Even while on break from Daft Punk, Bangalter continued to achieve phenomenal success. Collaborating with Alan Braxe and Benjamin Diamond, he created perhaps the biggest dance music hit of 1998, Stardust's "Music Sounds Better with You." In the same year he inadvertently dominated dance charts with his remix of Bob Sinclar's "Gym Tonic," released without Bangalter's consent. The success of these tracks only increased Bangalter's desire to complete the second Daft Punk album. In late 2000, fans were finally treated to Daft Punk's first new track in nearly five years, "One More Time." Effectively a bridge between the old and the new Daft Punk and Stardust, the single gave listeners an ample helping of exactly what they wanted and a taste of what was headed their way.
Even with the release of Discovery, Daft Punk isn't sitting still. Just before the album's release, they announced the launch of Daft Club. EveryDiscovery CD includes a club card bearing a number that provides personalized access to a Web site, where surfers can download new tracks and other exclusive material. And the digital duo will certainly embark on another world tour, although plans for the live show are still under discussion.
Bangalter promises that Daft Punk will continue to deliver many surprises during the coming years. "We never like to do the same thing twice," he says. "It's more fun and entertaining for us to do something different, whether it's wearing masks or developing a persona that merges fiction and reality. We're happy to give back to the masses."
Discovery evokes the sounds and styles of the late '70s and early '80s. Did you initially decide to pay tribute to that era when you started working on the album?
Thomas Bangalter: This album has a lot to do with our childhood and the memories of the state we were in at that stage of our lives. It's about our personal relationship to that time. It's less of a tribute to the music from 1975 to 1985 as an era, and more about focusing on the time when we were zero to ten years old. When you're a child you don't judge or analyze music. You just like it because you like it. You're not concerned with whether it's cool or not. Sometimes you might relate to just one thing in a song, such as the guitar sound. This album takes a playful, fun, and colorful look at music. It's about the idea of looking at something with an open mind and not asking too many questions. It's about the true, simple, and honest relationship you have with music when you're open to your own feelings.
Electronic and house music has shown how it's possible to destroy the old rules, so it comes from an open-minded approach in the first place. But it has started to set its own new rules. We wanted to destroy the new rules that define house music today by doing something that is more in the house music spirit rather than the house music style. The spirit of house music is about questioning yourself and trying different things. Electronic music is about creating exciting new sounds. A lot of house music today just uses samples from disco records of the '70s and '80s. In some respects, house music is a revival of that style. We don't want to make music that is considered just a revival. While we might have some disco influences, we decided to go further and bring in all the elements of music that we liked as children, whether it's disco, electro, heavy metal, rock, or classical.
You can even hear elements of progressive rock on a few songs, like "Superheroes," for example.
Bangalter: The classical arpeggios are very obvious on that track. We wanted to convey the feeling you get from certain movies. We wanted to make something that sounded like Queen's music for Flash Gordon or like what you hear when you're watching an old science-fiction cartoon likeWizards.
You've also broken away from the standard house music instrumentation. For example, you used Oberheim and Linn drum machines on several songs instead of the usual 808 and 909.
Bangalter: We used an Oberheim DMX and a Linn drum a lot. There is a Sequential Circuits Drum Tracks on "Short Circuit." It's not like we're going against what other people are doing. We're just opening up the music to new ideas. The instrument itself is not as important as the way we use it. Instruments come with certain instructions in the manual, and many people can't look beyond those rules. People ask us why we like to use vocoders or electric keyboards from the '60s, but to us instruments are just tools. The idea is more important than the instrument. One of the cool things about the house music spirit is that it inspired musicians to use instruments for things they weren't designed to do.
You had a hiatus between Homework and Discovery where you both concentrated on your own labels, Crydamoure and Roulé. How did those experiences affect the outcome of this album?
Bangalter: We spent most of 1997 touring and doing our live show. The first half of 1998 we focused on our own labels and working on our DVD. In 1999 and 2000 our time was split between making music for our labels and recording the new album. We make music together and we make music separately. The first album was done in the same process. It's an experience of being independent and having an outlet.
When you're working on a piece of music, how do you decide whether it's going to be a Daft Punk song or material for one of your other projects?
Guy-Manuel de Homem-Christo: We have the same tastes in music. When I make records for Crydamoure it's a different style than what may end up as Daft Punk music. I know what Thomas likes, and he knows what I like. Crydamoure is not so production oriented, even if it's not too far from Daft Punk. The Daft Punk material is more orchestrated and slightly different. I may be working on a sample for Crydamoure, and maybe no one else can hear the difference, but we know. It's very precise.
How do you two collaborate?
Bangalter: It's pretty wide open. There is no formula to our music. But we almost always start by working separately in our studios and coming up with ideas on our own.
de Homem-Christo: I have a studio with DJ Rico [Eric Chedeville] that I use to do my work for Crydamoure. Thomas's studio is where we do the bulk of our work for Daft Punk.
What is the difference between your studios?
de Homem-Christo: They're pretty much the same. I have a lot of the same equipment and instruments. The main difference is that he has more effects and mixing things.
Bangalter: My studio is bigger. It is more like an old studio, more of a professional studio.
What do you record to? Analog tape? Hard disk?
Bangalter: We use sequencers to control a lot of different samplers and synthesizers. Every sampler has a different sound, but my favorite is the E-mu. We have Roland, Ensoniq, and Akai samplers, too. A lot of times we'll try a sound in all of our different samplers to see which is best. Our sequencing is done either on an E-mu SP-1200, an Akai MPC, or a PC withLogic Audio software. We do not work on things in just one way.
This album sounds like it features a lot of live performance, too. The "guitar solo" on "Digital Love," for example, sounds like something you played instead of sequenced.
Bangalter: That was a mix of elements. It was done with the help of technology, with the help of sequencers. We're interested in making things sound like something other than what they are. There are guitars that sound like synthesizers, and there are synthesizers that sound like guitars. The other goal is to create spontaneity. Even though we're not that good, we played a lot of things ourselves. With the help of technology, you can manufacture skills you don't have. That's one advantage of having a home studio. It takes a lot of time to put together music that way, and that's not always a luxury you may have in a regular studio. You might have one or two months to record an entire album in a regular studio, but in a home studio you have more time to experiment. We also like the idea of the solo. No one plays solos in their songs anymore, but we wanted to include some on the album.
What do you look for when you select a sample to build a song with?
de Homem-Christo: We usually look for something simple. We'll just be browsing and something just happens. But it's very rare when we find something that inspires us. If a song doesn't happen fast, we move onto something else. We come across maybe one good sample every six months or so. We used only three samples on this album and everything else is played.
Bangalter: If you listen to 50 records a day, you may find three good samples out of all of them. Of the two we find a year, we then have to worry about making something good out of them. A lot of our songs start with samples, but we also have songs like "Too Long" where we wrote some chords first and took more of a song-based approach.
The songs on Homework were mostly based around loops and grooves, whereas this album primarily features traditional-style songs. How is this going to affect the way you perform live on the next tour?
Bangalter: It's too early to tell. On the last tour we worked with different layers. Everything was synched up — the drum machines, the bass lines. The sequencer was just sending out the tempos and controlling the beats and bars. On top of this structure we built all these layers of samples and various parts that we could bring in whenever we wanted to.
There are a lot of electric pianos on the album. Did you use a real Wurlitzer and Rhodes?
Bangalter: All the electric pianos were real. It's funny — technology allows you to simulate things, but you just don't play things the same way as you do when you have the real thing.
Are effects pedals still a big part of your sound?
Bangalter: I use everything. I have a lot of Boss pedals, but I also like to use all-in-one effects boards. It's amazing what you can do with just an 808 or 909 when you play it through those things and experiment with the sounds. Again, it's a matter of using things for something other than what they were designed to do. For example, some pedals are designed for bass, but they sound incredible when you play a guitar through them instead. It's all about whatever rules you are willing to break. Whenever we get a new pedal, we try it with everything we have. Sometimes that can help us come up with an idea we never had before.
You use vocoders and phase shifters on many of your tracks.
Bangalter: People always ask us what vocoder we use, but every one of our vocal tracks uses a different vocoder effect. We have the old Roland one [an SVC-350], Auto-Tune, and a Digitech Vocalist. We take the same approach with phase shifters. Every track on this album uses a different phase shifter. We have a Mu-Tron phaser, a Moogerfooger pedal, an old AMS phaser, and an Ensoniq DP-4. With the older items, you can have several of the same model and they all sound different.
We also use vocoders in ways most people don't use them. Auto-Tune is great for fixing vocals, but we use Auto-Tune in a way it wasn't designed to work. A lot of people complain about musicians using Auto-Tune. It reminds me of the late '70s when musicians in France tried to ban the synthesizer. They said it was taking jobs away from musicians. What they didn't see was that you could use those tools in a new way instead of just for replacing the instruments that came before. People are often afraid of things that sound new.
How did Romanthony feel about the heavy processing you applied to his vocals on "One More Time"?
Bangalter: He loved it. He has done a lot of different things and he always tries to innovate, which is what we like to do on our records. He never had his voice treated like an instrument like that.
You gave Romanthony's career a boost. How did you get involved with him?
de Homem-Christo: We met him at the 1996 Winter Music Conference and became friends. Before that, we mentioned his name on "Teachers," thanking him for his influences. We wanted to invite him to sing with us because he makes emotional music.
Bangalter: We wanted to work with Romanthony and Todd Edwards on our first album. They didn't know who we were at the time, so it was very difficult to convince them. When we met Romanthony in Miami, he told us he was very into what we were doing, which made us very happy.
de Homem-Christo: What's odd is that Romanthony and Todd Edwards are not big in the United States at all. Their music had a big effect on us. The sound of their productions — the compression, the sound of the kick drum and Romanthony's voice, the emotion and soul — is part of how we sound today. Because they mean something to us, it was much more important for us to work with them than with other big stars.
Bangalter: They are the house producers who were the biggest influence on us. Working with them was a way for us to close the circle. It was very important for us to do that, because they are part of what we do. Now that we've worked with them, we are free to explore other areas. It will be interesting to see what we'll do next. Now we can work with other people.
You probably get a lot of offers from other artists.
Bangalter: Yeah, but some people are afraid to approach us — and those are the people we usually are most interested in working with.
You haven't done too many remixes lately. Now that the album is completed, will you be doing more?
Bangalter: We're not doing any remixing. We've done only one remix in four years: Scott Grooves's "Mothership Reconnection," which was something we agreed to do a long time ago. We did a lot of remixes before we recorded our first album, but since then we've concentrated on recording original tracks. It's more a question of scheduling and priority. It's not that we've not been interested in doing that. Remixing is an interesting concept.
de Homem-Christo: It's not always constructive. It's different every time. Sometimes when the track you're given is good, there is no use remixing it. For us it's more interesting to start from scratch. The best remixes we've done were those where we took just one element and made an original track from it.
How do you feel about all the credit you've received for boosting the popularity of French dance music artists?
de Homem-Christo: There was not so much going on before. Because the scene was not so big, we met a lot of the musicians. It's great that people in France are making music now, because before there was nothing. Now there are ten or more French artists who are making great music, and everybody is doing different types and styles of music. I wouldn't call it a French touch because the French touch really does not exist.
A lot of French artists are involved with electronic music, but the only connection between us is that we're all French. We're not making the same type of music, and there isn't any traditional French influence. France is now connected with house and electronic music, but it's all part of a bigger scene. If someone was to tell you that Cassius was English, you wouldn't know the difference. The country is not as important as the music. It's a worldwide movement.
Remix editor Chris Gill is as bent as the Soviet sickle and as hard as the hammer that crosses it. Apparently it's just impossible to kill the bastard.
DAFT PUNK: A SELECTED DISCOGRAPHY
ALBUMS
Homework (Virgin, 1996)
Discovery (Virgin, 2001)
SINGLES
Darlin', "Darlin'" (Duophonic, 1992)
"The New Wave/Assault/Alive" (Soma, 1994)
"Da Funk/Rollin' & Scratchin'" (Soma, 1995)
"Da Funk/Musique" (Soma/Virgin, 1996)
Indo Silver Club, "Indo Silver Club" (Soma, 1996)
"Around the World" (Virgin, 1997)
"Around the World (I:Cube, Motorbass, and Todd Terry Remixes)" (Virgin, 1997)
"Assault/Alive" (Amato, 1997)
"Burnin'" (Virgin, 1997)
"Around the World (Masters at Work Remixes)" (Virgin, 1998)
"Revolution 909" (Virgin, 1998)
"One More Time" (Virgin, 2000)
"Aerodynamic" (Virgin, 2001)
DVD
D.A.F.T. A Story About Dogs, Androids, Firemen, and Tomatoes (Virgin, 2000)
REMIXES
Chemical Brothers, "Life Is Sweet" (Freestyle Dust/Virgin, 1995)
Micronauts, "Get Funky Get Down" (Phono, 1995)
Gabrielle, "Forget About the World" (Versatile, 1996)
Ian Pooley, "Chord Memory" (Force Inc., 1996)
I:Cube, "Disco Cubism" (Versatile, 1996)
Scott Grooves, "Mothership Reconnection" (Soma, 1998)
THOMAS BANGALTER
SINGLES
"Trax on Da Rocks" (Roulé, 1995)
"Spinal Scratch" (Roulé, 1996)
Stardust, "Music Sounds Better with You" (Roulé, 1998)
"Trax on Da Rocks," volume 2 (Roulé, 1998)
Thomas Bangalter and DJ Falcon, "Together" (Roulé, 2000)
REMIXES
Alan Braxe, "Vertigo (Virgo Edit)" (Roulé, 1997)
Roy Davis Jr., "Rock Shock" (Roulé, 1998)
Bob Sinclar, "Gym Tonic" (Yellow, 1998)
GUY-MANUEL DE HOMEM-CHRISTO
ALBUM
Waves (Crydamoure, 2001)
SINGLES
Le Knight Club, "Santa Claus/Holiday on Ice" (Crydamoure, 1997)
Le Knight Club, "Troobadoor/Mirage" (Crydamoure, 1998)
Le Knight Club and DJ Sneak, "Intergalactik Disko" (Crydamoure, 1998)
Deelat and Le Knight Club, "United Tastes of Deelat" (Crydamoure, 1999)
Le Knight Club, "Boogie Shell/Coco Girlz/Mosquito/Coral Twist" (Crydamoure, 1999)
Le Knight Club, "Hysteria/Hysteria II" (Crydamoure, 1999)
REMIX
Raw Man, "Number 7" (Crydamoure, 1999)